Reviewing Andersen No-Sway Weight Distributing Hitch
I found these all new weight distributing hitches at SEMA a couple years ago. They are like nothing I've seen before. I'm in the horse industry and WDH isn't used much in the horse industry because of the time and hassle of hooking up the hitch head and lifting up the spring arms.
Andersen, famous for their Rapid Hitch adjustable aluminum drawbars, have changed the industry. This new system has the best in sway control for bumper pull trailers, doesn't distribute weight to all axles and is quiet. Oh yeah, and they are fast to hook and unhook. Watch my two YouTube video's of what I've discovered. Free Shipping
Watch my video's and see what everyone's talking about with this revolutionary hitch for quiet sway control and trailer safety….
After 2-years of development and road-testing, Andersen Hitches releases their new Anti-Sway, Anti-Bounce Weight Distribution Hitch. Instead of just improving on current models, Andersen completely redesigned Weight Distribution…leaving the competition in the dust.
The Andersen Weight Distribution Hitch available with 4″ or 8″ drop/rise doesn't just raise the bar, it sets it –changing the industry forever! Combining modern materials, technology and innovation, it's the simplest, quietest, and most advanced weight distribution hitch on the road today. This is a first in the industry giving trailer owners the best anti-sway AND anti-bounce with the only true Motion-Dampening™ system around. People are shocked at how smooth and quiet the ride is compared to anything else out on the market today!
Weighing in under 60 lbs, this good-looking but tough work horse is rated up 14,000 lbs GTWR (1400 lbs tongue) to handle your heavy-duty trailer needs. It also doubles as a standard ball mount if you have the need to tow without any weight distribution.
Backed by a lifetime warranty, it's the only choice for total anti-sway, anti-bounce weight distribution!
Look at all of these advantages
Unparalleled Sway Control that self-adjusts according to load
So quiet you won't even know it's there!
Drastically reduces BOUNCE using our patented Motion-Dampening™ system!
2″ or 2-5/16″ ball included –no extras to buy
Fits all standard 2″ receivers.
One-pin removal from tow vehicle
Grease-free system –ball and coupler move as one
Easy install –no spring bars needed!
Available for 3″, 4″, 4-3/8, 5″, 6″and 8″ trailer frames
4″ or 8″ drop/rise adjustable shank available
Doubles as standard ball mount for towing without weight distribution
The smoothest ride around – owners are saying they can't believe it!
No problem backing up –unlike many other weight distribution hitches
Weighs under 60lbs!
Lifetime Warranty (limited)
14,000 lbs GTWR 2-5/16″ ball, 10,000 lbs GTWR 2″ ball • 1,400 lbs tongue weight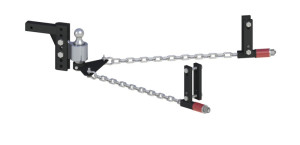 (3″, 4″, 5″, 6″ frame size brackets)

(3″, 4″, 5″, 6″ frame size brackets)

4″ Drop/Rise Shank

2-5/16 " Ball 14,000 lb Trailer

8″ Drop/Rise Shank

2-5/16 " Ball 14,000 lb Trailer

(4-3/8″ frame size brackets)

(4-3/8″ frame size brackets)

Add to Shopping Cart $449.99
| | |
| --- | --- |
| (3″, 4″, 5″, 6″ frame size brackets) | (3″, 4″, 5″, 6″ frame size brackets) |
| (8″ frame size brackets) | (8″ frame size brackets) |
| (4-3/8″ frame size brackets) | (3″, 4″, 5″, 6″ frame size brackets) |
NOTE: Currently the Andersen WD Hitch is not compatible with Atwood 88xxx series couplers (all other Atwood couplers are fine).
Reviewing Equal-i-zer Weight Distributing Hitch
Weight Distributing Hitches for "safe" controlled trailer towing. And required by your vehicles manufacture for their maximum tow & trailer tongue ratings.
For Better Steering, controlling trailer Sway and Hop.
Go direct to order page click here Call me with questions 303-883-1300 New Lower Prices
This is page #1 about WDH in general and my review. For shank sizes and more details on WDH page #2 click here.
I relate most of my towing experiences with going up and down hills. We have some tall hills in Colorado with snow still on them in the summer. Going down hill with a trailer pushing you and trying to steer you can get spooky. You will see semi-trucks adjust their weight with sliding 5th wheel hitches and sometimes sliding trailer axles. This is a good idea with your trailer also. Being able to adjust where the weight is distributed on your truck and trailer can get you close to the trailer capacity of a gooseneck or 5th wheel. If you are pulling a bumper type trailer (conventional, tag-a-long) having a Weight Distributing Hitch will improve your trailer sway, weight distribution and less stress for trailer safety.
Yes they work with boat trailers even single pole, click to read more
Horse trailers need it, boat trailers need it and there's a reason so many RV travel trailers have them. I see more and more enclosed car haulers in Colorado using WD hitches. Horse trailers seem to be the final frontier for WDH popularity. Hauling live tall animals, having a high center of gravity naturally, would the easiest place to see the dramatic improvement the WD hitches can add for better steering control and braking that, a level stable rig provides. WDH can do more to safely level your sagging vehicle rear end than all the springs, shocks and air bags combined. The WD hitch also places the trailer a few inches back to give you more room for a tight turn. Order Now...
The new 2008 Ford Super Duty F250/350 now has 8 inch longer rear leaf springs. The new 2009 Ford F150 has 6 inch longer rear leaf springs. This means more rear sag than the previous year. They need Equalizer.
In your vehicles owners manual and on a tag on the front of your receiver hitch is the tongue weight and trailer capacities. If you tow a trailer 5000#'s or more, they usually insist on a "weight distributing hitch." With lower trailer weights, you can just use a "weight carrying hitch." No weight distributing hitch will increase the total trailer capacity set by the vehicle manufacture, it just transfers the weight to all the axles including the front axle of your tow vehicle. This gives you better steering control, better braking and a level rig.
This WDH is a dual cam type that allows the spring bars to double as anti-sway devices. The outside bar will increase pressure on the hitch movement as the inside bar rolls over the cam indent in the spring bar. This is Reese's Dual Cam Sway Control. Reese introduced a Dual CamHP for heavy duty applications.

Normal chain style spring arms don't give effective sway control, just weight distributing for leveling truck/trailer.
To explain what a WD hitch does, think of it as a bridge between the towing vehicle and your trailer. This bridge comes complete with an adjustable under truss called spring bar/arm or trunnion bars which join the trailer "V" tongue of the trailer to the hitch head and receiver hitch that arches the bridge upward to spread out the weight.. The head with the trailer ball attached to the trailer coupler/hitch, bolts to the shank which is "L" shaped with adjustment holes for proper hitch height. The shank slides in to your receiver hitch which is bolted to the towing vehicle's frame or sub-frame. This union allows you to distribute the trailer weight evenly to all axles of the truck/SUV and trailer. Thus the name "weight distributing" hitch. The picture here shows the shank, head, spring arms, chains and snap-up brackets with a typical WDH. Email questions...

A common correction for leveling a trailer, is a weight distributing hitch. Which is good for leveling a rig and transferring weight to all the axles. But taking weight off the rear axle of your truck can cause traction problems when you need traction to get your truck back in line during an evasive maneuver. SuperSprings with a good WDH with built in sway control is the best combination for towing, especially with a 1/2 truck or SUV Read SuperSprings review..
On your receiver hitch or hitch receiver, you will usually see the tag with classifications for maximum tongue weight and maximum trailer weight. The lower weight is for WC which is "Weight Carrying" hitch or drawbar/stinger. In this situation all the tongue weight is on the WC hitch, draw bar.
The other classification on the tag found on your towing vehicle's receiver hitch is the higher weight carrying capacity for WD which is the "Weight Distributing" hitch that spreads out the tongue weight of the trailer. An important note here is that most vehicle manufactures will only allow a maximum trailer capacity of 5000#'s and 500#'s of tongue weight without using a weight distributing hitch. Read your owners manual, bet your salesperson didn't tell you!
Click to enlarge picture. This WD hitch has a friction type anti-sway bar. But instructions may tell you to loosen sway bar during rain or snow on some brands. That's when I want anti-sway the most. And more bolts to drill into the trailer hitch. But this is the cheapest system of the three types of sway control.
The 3 types of WDH anti-sway systems: #1 Friction #2 Dual Cam #3 Spring bar
The first place I remember seeing the WD hitch is with folks pulling RV travel trailers. Which used to be the gray haired, retired, fixed income conservative types. (Always watch this group, they seem to know something.) These big square travel trailers catch a lot of side wind and do the Elvis hip action when semi trucks pass them. A good properly adjusted WDH can take the sway, pitch and dip away from your trailer trying to react to wind, semi suction, pot holes and my favorite "swerving to miss the Angus cow crossing the road at midnight." Your can't control the other drivers or debris in the road. So when you need to do those quick lane changes to avoid an accident, be sure your trailer will recover from that quick movement without taking you down the ditch and over.
The economical E2 2-point sway control WDH from Equalizer with:

Integrated Sway Control, the Fastway e2™ hitches have the convenience of Integrated Sway Control™ built into the hitch; so you have sway control engaged whenever you are hitched up and towing. The e2™ utilizes unique sway control brackets instead of old 'add-on' sway bars or cam type attachments that are added to chain style hitches. Integrated sway control offers many benefits including no backing or turning restrictions, and simple and easy to understand adjustments. Built with sway control in mind, the e2™ hitch is better than a chain style hitch with add-on sway control devices. Order E2 2-point hitch
"You'll want to read your owners manual and the tag on your reciever. As an example if your truck or SUV came with a Class III receiver and your tongue weight is 500#'s or over and or your trailer is 5000# or over, the truck manufacture and receiver hitch manufacture require a weight distributing hitch for those higher trailer ratings. This means is could cause warranty issues and insurance issues. The RV world has embraced using wdh for decades for the safety and handling reasons. Horse trailers are the final frontier for broad use wdh. And hauling live tall animals need wdh the most. I know it's one more thing to do when you hook up and you may have to cut a slit in the nice tongue cover for the spring bar brackets, but it is an important safety measure. I applaud the horse trailer manufactures who already have a boxed cutout in their tongues for a wdh." MrTruck
Typical WDH set up with adjusted shank height and spring bars tension adjusted by the links on the chain. Notice the trunnion bars or spring bars are hanging lower only using a few links. The truck pulling the trailer was a one ton dually and didn't need as much tension on the WDH. Order Now... Email questions...
This trailer is a heavy enclosed car trailer needing almost all the chain links possible for the proper tension on the spring bar to spread the weight out to all truck and trailer axles.
Adjusting the WDH
Your WD hitch will come with instructions and to gain the full benefit from a WDH, you need to transfer the weight to all axles of the tow vehicle and trailer. Too much lift from a over tightened spring bars will cause a rear wheel vehicle to loose traction on say a slippery boat ramp or mud and snow. Ideally you want the tongue weight carrying 10 to 15% of the trailer weight. Weight Distributing hitches are rated to carry more tongue weight than a Weight Carrying hitch or drawbar.
In an interview with one of the Reese Hitch engineers at SEMA I was told that ideally when loaded the rear of your towing vehicle should only be one inch lower than the front measured inside the wheel well, that is before and after measurements of front fender and rear. On a front wheel drive SUV, you want to reverse that where the front will be an inch lower.
To be precise you may want to weigh your towing vehicle and trailer by axle to get your Gross Axle Weight Rating for the front and rear axles on both tow vehicle and trailer to see how well distributed the weight is.
In your tow vehicle if you look in the right side of the driver's doorframe you'll see the Truck Safety Compliance Certification Label. On that label is your (GAWR) Gross Axle Weight Rating for you vehicle. A level load will allow all of your brakes, wheel bearings, springs and tires to help with the load. Also get your loaded tongue weight to complete the equation. This can be done by weighing your tow vehicle with the loaded trailer attached but only the tow vehicle on the scale. Then weigh your truck without the trailer. With these numbers you can see how much you need to adjust your spring bars of the WDH as well with the real world driving to tell you how well balanced your rig is and if the trailer pulls will little sway. Order Now... Alaska and Hawaii Shipping $150 extra click Call for other countries 303-883-1300
Hummer H2 proved to be a great trailer tower. Equalizer wdh made it a easy pulling a 34' travel trailer from Nevada to Colorado in December threw mountain passes and snow storms. Read the story from Ultimate Hummers Magazine.
The GAWR can't be changed as with all the capacity maximum ratings. They are set by the manufacture and is considered the rule. If the rig pulls well, you are close to balanced. Since the GAWR can't be changed, use the spring bars to move weight between the tow vehicles axles. You can lift the spring bars on your WDH a notch before you weigh it again. Lifting the spring bar (trunion bar) will transfer some weight to the front axle. But if you move to much weight forward you can loose traction on the rear axle. So that's the adjustment you have to fine tune. You can add air shocks, or overload springs etc. if you want more support on the rear axle. None of that will though increase the capacity. But the WDH adjustment is the best thing to do for supporting the weight. Adding springs, shocks, air bags etc. doesn't change the GAWR or any of the weight ratings. Which is why I believe the WDH is the best trailer tool. The axle ratings on the door tag is the maximum for each axle that you want to be under.
Using the trailer jack to lift up the trailer tongue can help when attaching the spring bars to the trailer tongue chains or brackets. The same thing can help take the pressure off the spring bars when un-hooking. Order Now...
Independent rear suspension on SUV's need WDH
Ford Excursion, 2500 Chevy Suburban, GMC Yukon 2500 XL, older Dodge Dakota and older Ford Explorer's have rear leaf springs like a full size truck. But the trend is the independent rear suspensions coming to SUV's such as late models of Ford Explorers, Expeditions, Mercedes ML320 and above, Lexus etc. They ride great but all that extra movement for the soft ride, will let a trailer move more. The coil spring suspensions found on most SUV's also allow more trailer sway. So I highly recommend using a WDH. The better ones are easy and fast to hook up. Watch the retired gray hairs pulling RV travel trailers. 80% of them will have a WDH. And their cargo doesn't shift weight from one hoof to the other while swatting flies with it's tail. Also another SUV that needs unique attention and a well tuned WDH is the Jeep Grand Cherokee. I see this vehicle towing a lot of trailers. It has the power with the V-8 but the short wheelbase and unibody construction makes this tow vehicle need proper setup for safe towing. I was driving next to one on I-70 last winter in a blizzard over Vail pass. It has pulling a 16 ' flat bed trailer with crate loaded too far forward. The trailer had a weight distributing hitch, as Cherokee's need and was still squatting which was partly due to the load being too far forward and partly due to the bridging effect of the WD hitch putting leverage on the unibody of the Cherokee is not as effective as the leverage on a, (body on frame) system from what I see.
There are several good WD hitches available. I like Equal-i-zer because their hitch works as a Weight Distributing Hitch and Anti-sway bar all in one and they are one of the only ones that don't require holes drilled into the trailer hitch and they work with surge brakes like you find on boat trailers and some horse trailers. The Anti-sway system is incorporated into the spring arms as they drag across the L bracket on the trailer end and the hinged trunnions where they bolt to the head. This causes friction and slows down the reaction at the hitch. They hook up easy and fast without holes in the trailer hitch. The friction anti-sway bars that are an option on some WD hitches apply pressure with a sliding plate clamp system that aren't to be used in the rain or snow. During rain and snow you need anti-sway the most. Equal-i-zer WDH are a little over $500 so they aren't the cheapest or the most expensive, you can order direct from the manufacture or a lot of RV and trailer dealers sell them. I use mine on all the different trucks I test from Quadrasteer Suburban to Hummer H2. I'd be in trouble if I had to drill holes in all the trailers I borrow. A lot of bumper pull horse trailers have sheet metal across the V-hitch so you have to cut a small slit in the sheet metal for the brackets. Which is better than most WD hitches that have a wide clamp that is bolted or welded to the trailer frame for the spring bars to attach to with chains. Also instead of corrugated washers to adjust the angle of the head, Equal-i-zer uses a large solid pin with spacer adjustment that can't slip. Order Now... Watch video
You don't need to weld or bolt ugly brackets to your trailer V-neck as seen below.
This trailer V-neck hitch has the clamps welded on the hitch for the chain brackets that connect the spring arms to the trailer V-neck tongue. The Equal-i-zer trailer spring bar bracket on the trailer hitch V-neck, only needs a slit cut into the cosmetic deck plate of 1 1/2" by 1/8" which can be done with a hand drill or drill and jig saw.
A close up of the clamp. This one welded and a slit is cut in the sheet metal covering the gap in the V-neck Email questions...
The sheet metal or aluminum that covers the V-neck is usually cosmetic, but ask your trailer dealer or manufacture if you can cut a small rectangle hole in it for the WDH spring bar bracket..
The Parts
WDH head with ball attached.
Shank which slides into your towing vehicles 2" square receiver on the receiver hitch. All the holes in the shank give you height adjustment and the L can go up or down to give you more hitch height adjustment
Spring bars or arms that are pinned to the WDH head and pinned to the V-tongue trailer hitch. These bars create the bridge between truck and trailer.
Sway bracket, L bracket, L pin, clip and bolts that attach to the V-neck trailer hitch..
Snap-up Lever included for attaching spring arms to trailer bracket. You can also use your trailer jack to help lift the spring arms into place.
Putting it all together
Shank attached to the head and trailer ball with the L pointing down for adjusting hitch height downward.
Spring bars added to WDH head
Spring bars attached to head with quick pins, trailer coupler attached to ball attached to the head.
L brackets and link plates attached to the V tongue hitch of the trailer
The Snap-up lever in place to lift spring arms into L bracket picture left.
Right, The link plates have five holes. One hole is alone – the other four are together. The single hole should be on the top of trailer frame.
Click on pictures above to enlarge.
Spring bars attached to head and trailer V-tongue, trailer coupler attached to the ball attached to the head. Notice the adjustments for moving the spring bars on the trailer.
This picture shows the spring bars moving on a corner with pressure for sway control provided by the bolts in the hitch head with the hinged trunnions.
I know that most folks who don't use a Weight Distributing Hitch, and that know about the benefits of them, is the hassle of hooking them up. Well I'm against hassles myself and that's why I can recommend Equal-i-zer hitches. It might, if you are as slow as me add 2 minutes to you hitching up time. And being able to adjust your towing rig to be level with even braking and bearing support along with losing the wag from your tail is sure worth 2 minutes. Order Now... Email questions... Alaska and Hawaii Shipping $150 extra click Call for other countries 303-883-1300
To see the three shank sizes, click here and learn more about WDH
Hitches, 18 inches is a common hitch height. If your truck or SUV's hitch is near the 18" height and your trailer tongue coupler is in that range when setting level, the 90-02-4100 shank will work for you which is included in the complete hitch. For more rise or drop see optional shanks below Email questions... Alaska and Hawaii Shipping $150 extra click Call for other countries 303-883-1300

Choose One

Part Number

Description

Price

Buy Now Just Click

90-00-0600

$499

6,000 lbs. max. trailer weight. adjustable hitch complete, 600 lb max. tongue weight. Includes 90-02-4100 shank

$718 retail. MrTruck price

$499

Buy

Buy Now Just Click

90-00-1000

$509

10,000 lbs. max. trailer weight. adjustable hitch complete, 1000 lb max. tongue weight. Includes 90-02-4100 shank

$730 retail. MrTruck price

$509

Buy

Buy Now Just Click

90-00-1200

$525

12,000 lbs. max. trailer weight. adjustable hitch complete, 1200 lb max. tongue weight. Includes 90-02-4100 shank

$742 retail. MrTruck price

$525

Buy

Buy Now Just Click

90-00-1400

$599

NEW 14,000 lbs. max. trailer weight. adjustable hitch complete, 1400 lb max. tongue weight. Includes 90-02-4100 shank

$852 retail. MrTruck price $599 Buy

Maximum tongue weight 10% of trailer weight rating. Average trailer tongue height from the ground up is 14 inches

$90 shipping charge for any hitch (continental U.S. only). Alaska and Hawaii Shipping $150 extra click Call for other countries 303-883-1300
Pole Tongue Adapter for Boats Part # 95-01-5950 $116 click to order Description at bottom of this page.
Standard Shank 90-02-4100 is Free with complete hitch.

Shank hole spacing is 1 1/4"

For all other shanks, add your choice of shanks to your shopping cart.

Part Number

90-02-4100 shank 9.25", 12" long

adjustable shank (best for straight settings) average (3" drop/ 7" rise)

Included free with WDH Hitch purchase

Email questions,

or

90-02-4200 shank 9.25", 12" long

adjustable shank (best for a slight Rise or Drop) slight (4" drop/ 8" rise)

90-02-4300 shank 11.25", 12" long

adjustable shank (best for a deep Rise or Drop) Deep (6" drop/ 10" rise)

90-02-4400 shank 14", 12" long

adjustable shank (best for a deep Rise or Drop) Deep (9" drop/ 13" rise)

90-02-4500 shank 9.25", 18" long

adjustable shank (best for a deep Rise or Drop) Deep (3" drop/ 7" rise)

90-02-4600 shank 9.25", 18" long

adjustable shank (best for a deep Rise or Drop) Deep (4" drop/ 8" rise)
Ball bolts need to be (1-1/4) 1.25 inches thick and (2-1/4) 2.25 inches long.
A special thanks to Equal-i-zer Sway Control Hitch
The total weight of your truck and trailer loaded at maximum capacity is called the Gross Combination Weight Rating, (GCWR), which is the sum of the Gross Vehicle Weight Rating, (GVWR) for truck and the GVWR of the trailer. But that's just the total numbers. Then you have to stay within the maximum tongue weight of the hitch and receiver on the truck in the proper distribution percentage and the truck and trailer's Gross Axle Weight Rating, (GAWR). And then of course it has something to do with, pie R squared, yuk, yuk. It is very confusing.

Equal-i-zer Weight Distributing Hitch

When using a weight distributing hitch with a bumper pull trailer, the weight distributing hitch head or shank on the A-frame tongue of the trailer slides into the trucks receiver hitch, (the 2" square tube attached to the truck frame.) Usually class 3, 4 and 5 receiver hitches are 2" square, some of the heavy duty class 5's are a 2 ½" tube.

For the tongue or A-frame of a Bumper Pull trailer
© Copyright 1999-2011 H. Kent Sundling and MrTruck.com. All rights reserved including digital rights.